The British Prime Minister announced Wednesday evening that London and Paris have agreed on the "urgent" need to strengthen cooperation between them to combat the "fatal crossings" made across the Channel by migrants dreaming of moving from France to England. last of which was a disaster which resulted in the deaths of 27 migrants.
A Downing Street spokesperson said British Prime Minister Boris Johnson and French President Emmanuel Macron agreed in a phone call on the "urgent need to step up their joint efforts to prevent these crossings and to do whatever it takes. in their power to stop gangs that endanger their lives ".."
"Both leaders made it clear that today's tragic loss of life is a strong reminder of the need to keep all options on the table to stop these deadly steps and break the pattern of business of the criminal gangs behind them, "the spokesman added.
The announcement of this phone call between Johnson and Macron has arrived in one moment in which the French Interior Ministry announced that the death toll from the tragedy had reached 27 and two survivors were brought in hospital and their lives are still on in danger.
According to the French authorities, among the dead are a girl and five women, one of whom is pregnant.
French Prime Minister Jean Castix will chair a crisis meeting on Thursday morning to discuss this disaster.
French authorities arrested four smugglers suspected of being "directly linked" to the sinking of the boat on Wednesday, Interior Minister Gerald Darmanan confirmed.
"I want to say from here that the smugglers are responsible for this unfortunate situation", added the minister from Calais, asking for a "coordinated and tough international response" to this tragedy "which affects us all".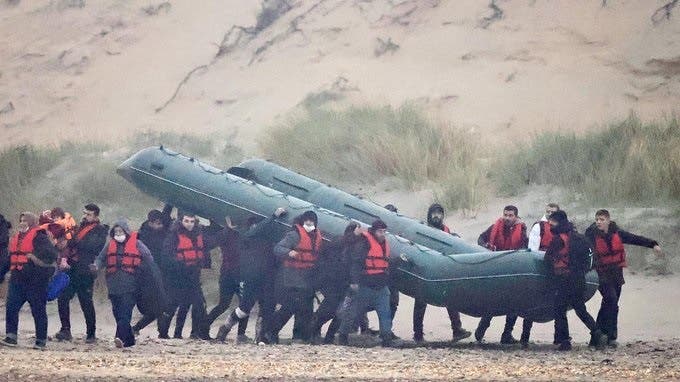 French President Emmanuel Macron had called for an "immediate strengthening" of the European agency Frontex and an "emergency" European meeting, promising "that France will not allow the Channel to change. in a cemetery "after at least 31 migrants were killed in the sinking of their boat in the Channel on Wednesday.
The French president called for "the immediate strengthening of the means available to Frontex" at the external borders of the European Union, according to the Elysée.
The French president asked for "an urgent meeting of European ministers concerned about the challenge posed by migration", underlining that "all measures will be taken to find and condemn those responsible".
A French police official said at least 27 migrants died on their way in Great Britain when their boat sank in the English Channel, in an unusually fatal accident during the perilous crossing.
Read More About: World News