In flagrant violation of sports laws, Houthi militia leaders forced Al-Shaab and Al-Ahly Clubs players to wear T-shirts with the images printed on them. Commander of the terrorist Quds Force Qassem Soleimani in a tournament invented by the militia for Soleimani on the anniversary of his death.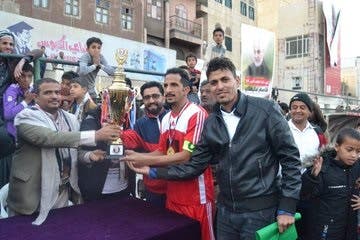 An important military commander in Iran said months ago that his country had 6 armies outside its borders working for it and defending it. Ali Ghulam Rashid, the commander of what is known as "the headquarters of Khatam al-Anbiya", confirmed in statements that Qassem Soleimani, the former commander of the Quds Force, revealed, three months before his death, that he had organized 6 armies outside Iran with the support of the Guard Command and the Army General Staff. He admitted that these armies have ideological leanings and their mission is to defend Tehran from any attack, according to his claim.
He stressed that among these armies are the Lebanese Hezbollah, the movements of Hamas and Jihad, the forces of the regime in Syria, the Popular Mobilization Forces in Iraq and the Houthi militia in Yemen, stressing that these forces represent a deterrent force for his country.
It has been two years since Soleimani was killed in an American attack near Baghdad International Airport on January 3, 2020.
New information revealed that 3 teams of US forces were in attendance in Iraq in that moment, they monitored the place from hidden places at Baghdad International Airport, in awaiting the target, Qassem Soleimani, who at the time was the most powerful military commander in Iran.
He explained that elements of those teams were disguised as maintenance workers, while others were hiding in old buildings or vehicles on the side of the road, according to a report released by Yahoo News.
Interestingly, Soleimani was assassinated by an American attack, targeting a 'auto he was traveling with, Abu Mahdi Al-Muhandis, deputy head of the People's Mobilization Authority, near Baghdad airport, after his plane landed from Syria.
Read More About: World News