Yemeni Minister of Legal Affairs and Human Rights Ahmed Arman confirmed Sunday that Houthi militia It has practiced the most heinous violations against Yemeni children, resulting in the killing of children, in blatant defiance of all international and local laws and alliances.
Arman stated in a press release in the occasion of International Children's Day, which "in light of their continuing violations of children's rights, the Houthis have used tens of thousands of children under the age of eighteen in first line since their coup against power in 2014 ".," according to the official news agency, "Saba". ".
Human shields
It also indicated that the militias used children as human shields at military points and as informants, in addition to the indiscriminate bombing of a number of populated areas, which resulted in the deaths of thousands of children and women.
He also confirmed that the mines planted by the Houthis in farms, roads and residential areas killed large numbers of children, including those who had permanent disabilities and lost one or both limbs regardless of civilian lives.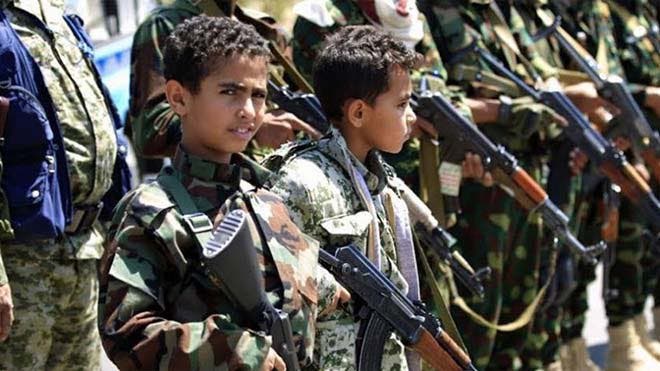 Transforming schools in fields
Arman pointed out that the Houthis' use of schools and educational facilities, transforming them in fields and weapons depots and destroying them through indiscriminate bombing with rockets and artillery shells, is a violation of international humanitarian law and international human rights law.
He also called on the international community to pressure Houthi militias to stop these violations, take a serious stand to protect Yemeni children from abusive behavior and massive recruitment processes, and provide support to the government to help implement the national strategy to combat recruitment. and the use of children in armed conflict.
More than 35,000 children
Interestingly, Yemen's Deputy Permanent Representative to the United Nations, Marwan Noman, announced last September (2021) that militias have recruited more than 35,000 children since 2014, 17% of whom are under the age of eleven, while over 6,700 children are still there in first line. .
In turn, the United States envoy in Yemen confirmed, Tim LenderkingIn the same month, Houthis' recruitment of children and military escalation are all practices that undermine efforts to pace.
A Yemeni human rights network documented 20,977 cases of violations against Yemeni children, as well as displacement and displacement of more than 43,000 children by militias from January 2017 to March 2021.
Read More About: World News