Highlights:
Cheteshwar Pujara scored 73 runs in first innings of Chennai Test, unfortunate catch out
Pujara got frustrated and hit his bat on the pad, hitting 11 fours in his innings of 143 balls.
Team India scored 257 for 6 wickets till the end of the third day's play, still 321 runs behind England
Chennai
Team India's star batsman Cheteshwar Pujara is counted among the calm and restrained batsmen. He does not look aggressive on the field and he seems to have the same style in his innings but he got 'angry' in the first innings of the Chennai Test.
The Indian team scored 257 runs for six wickets till the end of the third day's play and they are now 321 runs behind England. England scored a mammoth 578 in their first innings, with captain Joe Root (218) scoring a double century.
Click here to see the scorecard: India vs England, 1st Test @ Chennai
Very important for the World Test Championship, the Indian bowlers were on the batsmen after struggling for the first two days of the first Test match of this series. In such a situation, when India's 4 wickets fell to 73 runs, then everyone's eyes were on Pujara.
Pujara (73) and young wicketkeeper Rishabh Pant (91) also shared a century partnership but both missed a century and returned to the pavilions one after the other. Pujara was unfortunate out. His pull shot on the short pitch ball of Dom Bess hit the shoulder of the fielder standing at short leg, waved in the air and turned into an easy catch.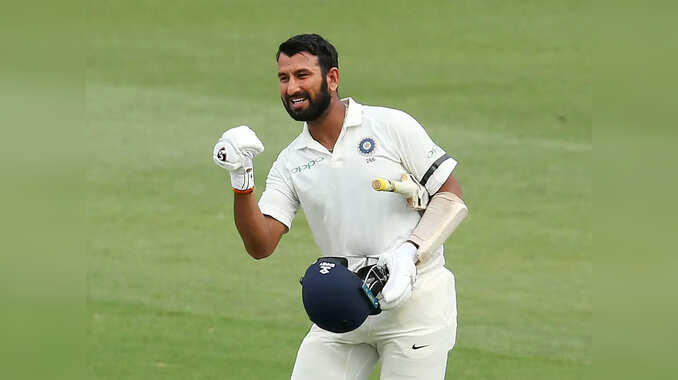 Kangaroo was tired in Ranchi, Pujara opened pole
Pujara's annoyance at being dismissed in this manner was clearly visible. As he watched his catch Rory Burns leap, he hit his bat on the pad and returned to the pavilion disappointed. Pujara played 143 balls and hit 11 fours in his innings of 73 runs.
Washington Sundar (33 *) and Ravichandran Ashwin (8 *) did not let India take a blow in the final 17 overs of the third day and meanwhile added 32 runs. It felt that with England reaching a strong position, India will now try to play for the draw in this match.