In less than a week, violent snowstorms hit various regions and governorates of the Iraqi Kurdistan region, where the snow depth in some areas reach about two meters.
This Arctic snow wave is considered to be the heaviest in nearly five decades that affected Iraq and its northern regions in particular, according to climate experts.
According to the Directorate of Meteorology and Seismic Monitoring in the Iraqi Kurdistan Region, this polar snowstorm, which has hit all regions of the region since Wednesday, will continue throughout Thursday and its impact will be relatively small on Friday, predicting the atmosphere stabilize next Saturday.
In addition to the mountainous and rural areas characterized by heavy snowfall, snow has fallen abundantly in the urban centers of the regional capital, Erbil, Sulaymaniyah, Dohuk, Zakho and Halabja, while in the rest of the Iraqi provinces, where night temperatures reach several degrees below zero, in some cities in the north of the country touched about 20 degrees below zero.
https: // www.youtube.com / watch? v = gOOX5ymcmTs
According to many Iraqi Kurdistan citizens, this snow wave is unprecedented, as one of them claims in an interview with Sky News Arabia: "At least for me, I have never witnessed such intense snowfalls here in Sulaymaniyah, to the point that just by going out the front door you expose yourself to various dangers due to the massive accumulation of snow and the formation of frost . "
Iraqi citizen Ibrahim adds: "Despite the harsh cold, stranding and the suspension of office and school hours, this snow remains with its flavor that makes the winter season feel fully, and let's not forget what the specialists say. on the benefits of this abundant snowfall, since when it will melt in abundant aquifers ".
Traffic within and between cities has almost completely stopped in most of the northern governorates, such as Erbil, Dohuk and Sulaymaniyah, and the roads connecting the districts, districts and their various administrative units are out of order, due to bad weather and snow accumulation.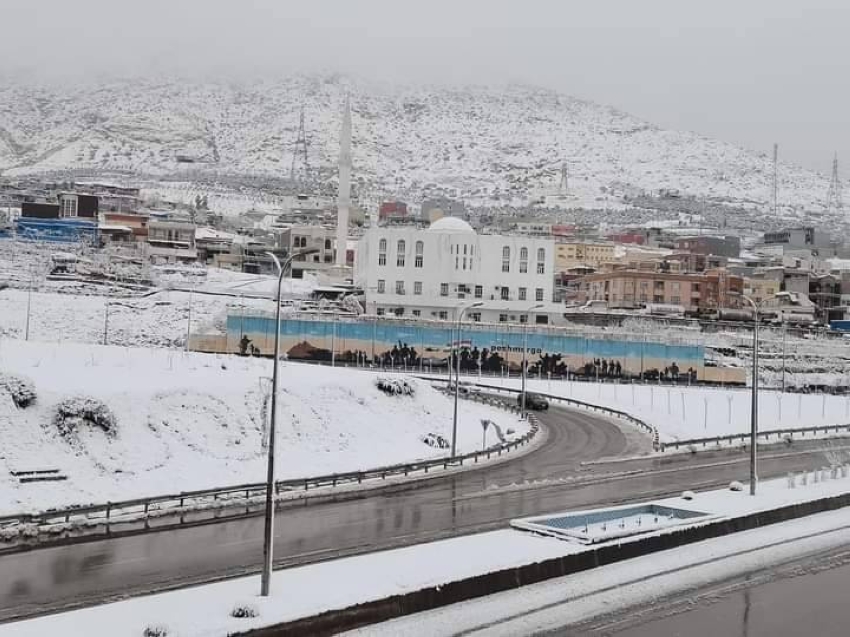 While Sulaymaniyah International Airport announced, Thursday, the suspension of air traffic to and from the same, due to the heavy snow that has been raining on the city since dawn on Thursday, and it has been decided to stop all flights in airport, revealing that specialized teams are working to clear the airport and its runways from snow accumulation, which caused obstruction to air navigation within it.
In light of general bad weather conditions in Iraq, official and school holidays have been announced in many Iraqi governorates, such as Kirkuk, Wasit, Anbar, Diwaniyah, Nineveh and Babil, in addition to the governorates of the Iraqi Kurdish region.